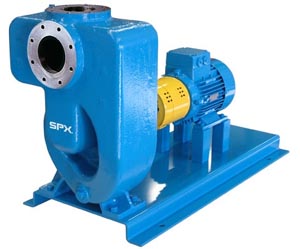 The Johnson FreFlow self priming pump has approx 20 pumps in the range. The FreFlow is capable of suction lift of 7 meters. Units comes in short coupled or long coupled designs. The FreFlow is a robust and long lasting pump. Self priming capabilities enables maintenance at ground level without submersion or requirements for guide rails or hoists.

Non return valves are not required on the inlet and units will handle liquids containing air or gas. The Back-Pull-Out system allows for maintenance in situ without removal from established pipework and lagging. Units are sized depending on flow requirements and system piping layout
There are 19 pumps in the Johnson Freflow Pump range. Connection sizes go from 32mm to 150mm.  Immersion of the mechanical seal in an oil bath, on the atmospheric side, enables the pumps Self Priming capability of up to 7m therefore eliminating the requirement for foot valves.
Availalbility in different materials of construction enable it to be suited to handling contaminated fluids.  FreFlow is easily maintanined through it's back pull out design, allowing maintenance in situ without the requirement for removal from pipework. 
Casing material - Cast iron, Nodular cast iron, Bronze
Impeller - Cast iron, Bronze
Max Capacity - 350m3/h
Max Head - 80 m
Max Liquid temperature - 80°C
Max Pressure - 9 bar 
Please contact us and we will locate them for you.